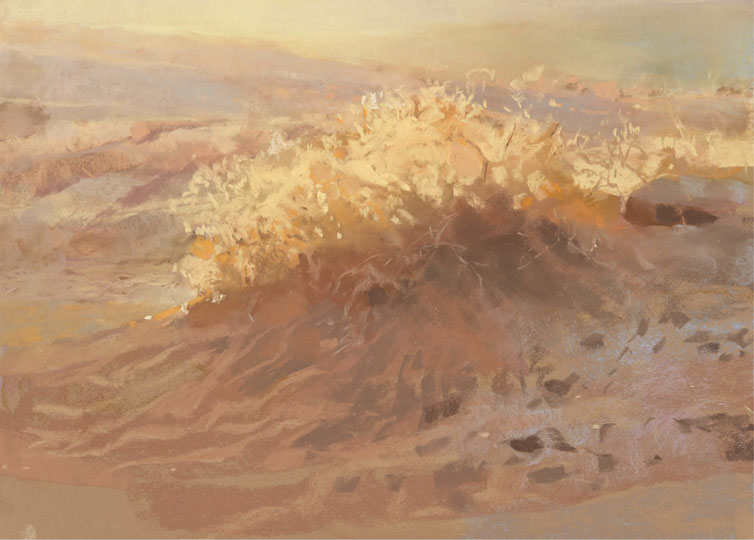 MARGARET LARLHAM
Breath and Light
September 1st through October 7th, 2018
RECEPTION FOR THE ARTIST: Saturday, September 1st, 4-7 PM
Breath and Light, a one person show featuring new paintings by artist Margaret Larlham. On exhibit will be recent pastel and oil pieces reflecting Larlham's affinity for California native plants and trees, particularly those native to San Diego County.
Margaret Larlham likes to focus on painting this area's wild and local terrain with a special eye to the chapparal. These she calls "the self determined hardy things". Many of Larlham's pieces focus up close on individual and landscape details, details that are sometimes overlooked by other painters. She is a master of capturing the natural world as it is. This show takes its name from the connection that Margaret Larlham sees between mountains, water, trees, and light. The show to her is about ecosystem. The integrative relationship that each element of the landscape has to another.
Margaret Larlham has been painting and exhibiting her work for many years. It is important to note that aside from painting the rich creative life of this artist extends into many different areas.
Larlham has been active not only in the visual arts, but also in modern dance, storytelling, and theatre. She recently retired as a tenured member of the faculty in the School of Theatre, Television and Film at San Diego State University where her focus as a professor was on devising and directing plays with SDSU students for youth, both for touring schools and for the theatre.
Originally from Durban, South Africa, Larlham came to this country in the 1980's when her husband joined the staff of the drama department at San Diego State University. Sha has also been an Artist in Residence with the San Diego Unified School District, filling the role as official storyteller. She is now able to paint full time and it has become important to her to paint as she travels.
A Signature Artist of the Pastel Society of America and a member of the Masters Circle of the International Association of Pastel Societies, Larlham has received many national and international acknowledgements and awards. A constant plein air painter, this year she participated by invitation in an international group exhibition, Flughpunte, with the Berlin-Brandenberg Plein Air Group in Germany and was awarded Best in Show at the Borrego Art Institute's 12th Annual Plein Air Invitational Paint Out and Exhibition. She paints daily either in her "backyard" which is San Diego County's Mission Trails Preserve, in her studio, and whenever and wherever she travels. Her recent portfolio includes landscapes of England, South Africa, and Tanzania.
Breath and Light will be Margaret Larlham's sixth solo show at Santa Ysabel Art Gallery.
Admission is free. The public is invited.