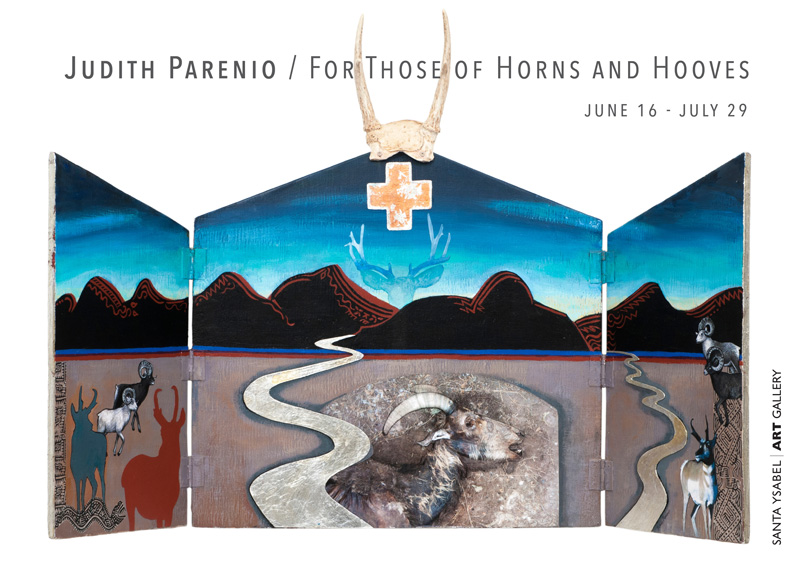 JUDITH PARENIO, For Those of Horns and Hooves
SCULPTURE AND PAINTINGS
June 16th through July 29, 2018
RECEPTION FOR THE ARTIST: Saturday, June 16, 4-7 PM
Featured in the show will be the artist's large encaustic and clay wall pieces, small clay mutant creatures, and large clay sculpture and paintings. Parenio is a sculptor who paints, and the paintings on display in the exhibit show her need for texture and dimension. Some of these colorful constructed paintings remind one of folk art with their shapes and patterns.
With the title of the show, For Those of Horns and Hooves, Judith Parenio creates a visual dialogue about earth's frailty and beauty. She is an artist who likes to travel throughout the Southwest desert and down into Mexico, mentally collecting images as reference for future art pieces. Parenio has a strong connection with open lands and to those creatures who inhabit them. Symbols of ancient cultures intrigue her and influence her work. She uses colors and shapes from nature as another way of seeing. The mutant creatures in the exhibit express her musings about whether the species who evade extinction will mutate to survive the onslaught of man on earth.
Parenio has been a working artist and an art educator in private schools and studios, exhibiting in San Diego for over 30 years. She is known for her paintings and drawings, monoprints and clay sculpture, and is part of the Clay Associates school community in San Diego. Her work is in collections throughout the United States, Australia, Mexico and in Europe. Parenio lives and has her studio in Pacific Beach.