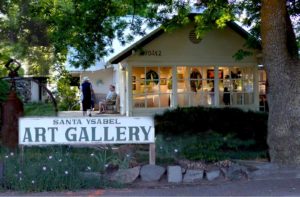 Twenty-five year old Santa Ysabel Art Gallery exhibits both traditional and contemporary fine art and fine craft from established and emerging artists. The gallery has a long standing commitment to excellence in painting, sculpture, ceramics, glass and work in mixed media, and to the choice of artists who exhibit there. There is a special interest in regional California landscape painting and painters, both plein air and studio. An earmark of the gallery is the James Hubbell Room, which features the work of Santa Ysabel's internationally recognized artist, poet, visionary and builder of organic houses James Hubbell.
Surrounded by mountain views and open pastureland in the picturesque Santa Ysabel Valley, the gallery is in the historic 1930 Hillyer house on grounds that are rimmed with large trees, flower gardens and open spaces to stroll. The gallery neighborhood is home to SOHO's restored Santa Ysabel General Store, the well known Dudley's Bakery, and next door, the Julian Weaving Works and Academy of Handweaving.
Santa Ysabel Art Gallery is located in northeast San Diego County at the intersection of Highways 78 and 79, thirteen miles east of Ramona, and seven miles below the mountain town of Julian. Gallery hours are Thursday through Monday, 11AM- 5PM, and by appointment. The gallery is closed Tuesday and Wednesday. Artist's receptions are open to the public. There is no admission fee to the gallery. The Gallerist is Annie Rowley. For more information call (760) 765-1676.